With the CSM elections out of the way, the next big event on my
EVE
calendar is EVE North. Held in Toronto on the weekend of 22-23 June, the substitute on the schedule for the yearly event in Reykjavik isn't nearly as big. Then again, as the expansion of a player-run get together, any such expectations are a bit silly. Still, CCP may surprise with some news as it begins the development cycle leading to the next expansion, probably sometime in November. Needless to say, I will plan my schedule in Toronto accordingly.
First is the pre-convention activities. I always try to get into town for these events a couple of days early, and this trip is no different. I arrive on Thursday evening and hope to settle in for a day of walking around Toronto on Friday. I might meet up with people, although I'll have to refrain from drinking Thursday night due to some medications I'm taking. But the prescription runs out in time for me to drink with everyone on Friday.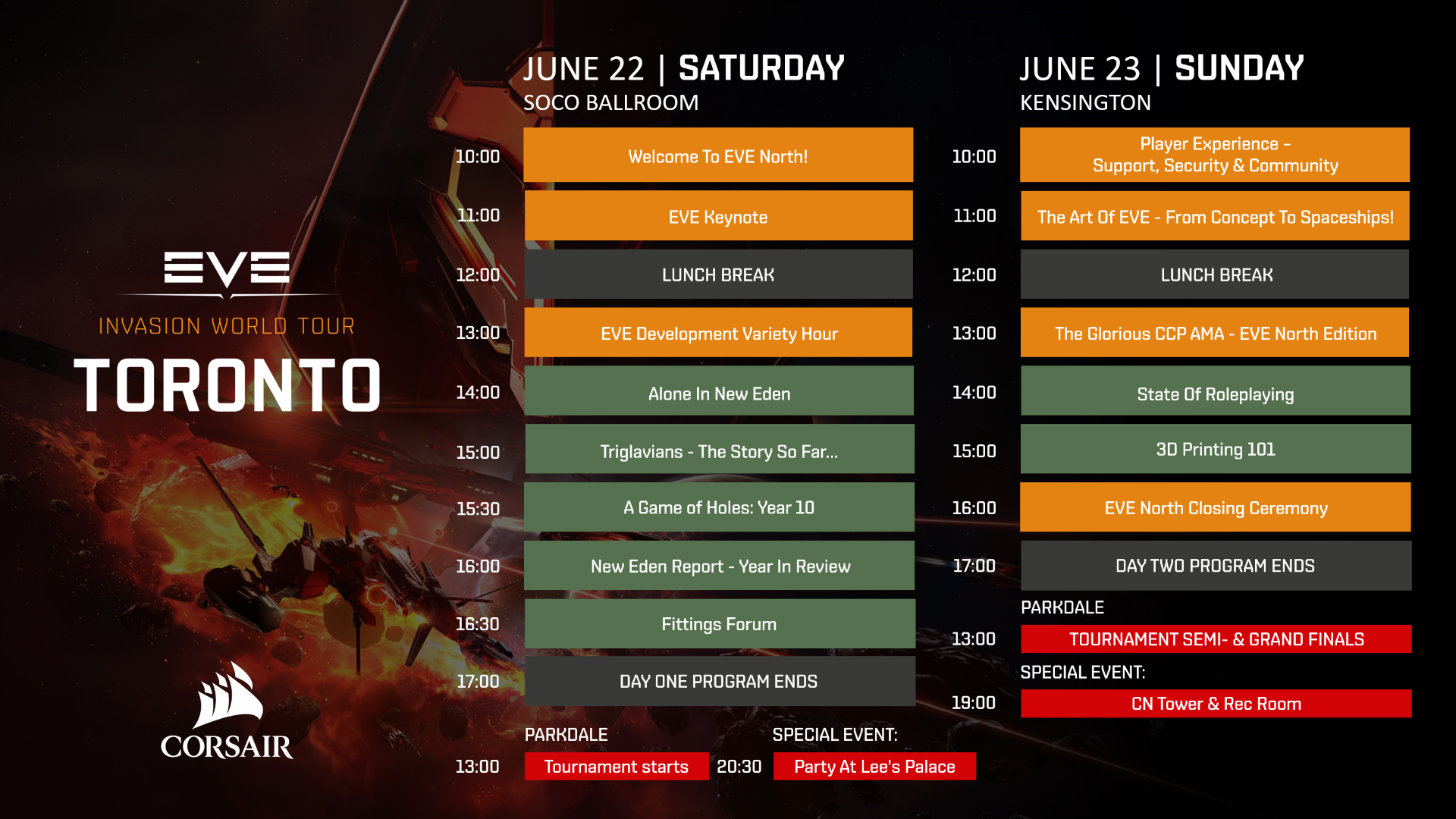 Saturday is the big day and I might just camp in the Soco Ballroom. The welcoming ceremony and EVE Keynote are basically mandatory. Depending on the description of the "EVE Development Variety Hour", I may take a two-hour lunch. I will return in time for the player presentations running from 1400 - 1630. The Triglavian lore presentation and the New Eden Report's Year in Review are the highlights, but the "Alone in New Eden" presentation has an intriguing title.
The only mandatory session on Sunday is the one at 1000, "Player Experience - Support, Security & Community". I'm not sure exactly what to expect, although I hope a couple of interesting graphs and charts are included. I think the next session I'll attend is "State of Roleplaying". I'm not really sure the AMA at 1300 is worth giving up my two-hour lunch. And, of course, the closing ceremony.
Not really a big weekend. A few hours listening to presentations and 4 days catching up with people I usually only interact with over the internet. But I can use the break, plus I should pick up a couple of topics to write about.